Location information has historically been an underused piece of data. An odd fact considering that 80~90% of databases have at least some form of location information, such as a store, office or customer's address. To a large extent this underutilization is because traditional business applications were never designed to leverage or understand the spatial relationships that exist between various data sources. This has made it harder for companies to see the big picture when it comes to working with multi-dimensional and disparate data, particularly as data often appears unrelated unless viewed within a spatial context. For example, if your data doesn't know "where" it is, you'll be unable to draw connections between customers and stores, uncover trends and patterns that are occurring in different areas or identify new opportunities for market growth or operational efficiencies.
Apart from the advantages above, one of the other great benefits of location powered intelligence is that it provides one of the most intuitive visualization methods known today - the map. For centuries people have been using maps to navigate paths, determine courses of action, identify important points and draw boundaries between territories and zones. Maps help people understand where they are and where they are going, and in the context of business, help companies stay organized and focused. By displaying business data against the backdrop of a map, managers and analysts will no longer be asking "what are the numbers" but "where are the numbers". Their view of the business landscape will be more holistic which will ultimately help them make better, faster and more informed decisions.
Illustration: This example shows how location intelligence can take complex multi-dimensional data and then display it in a intuitive manner that leads to greater clarity and understanding, resulting in better, faster and more informed decision making.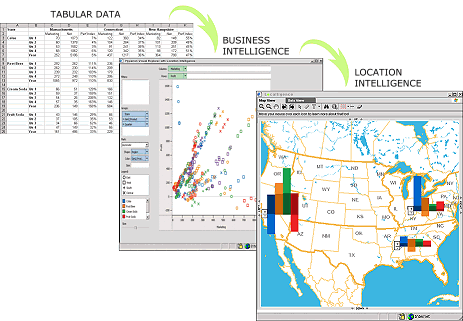 Click image to zoom in and learn more about this visualization